Climbing the Pocket EPISODE 152 [FLIPSIDE OF OTAS]
Click here for iTunes
Click here for Stitcher
Click here for iHeartRADIO
Click here for YouTube
Click here for Google Play MusicAudio Player

In this episode:
Rhodes on Zimmer's criticism
Alexander Mattison impact
Kyle Rudolph
Kyle Rudolph's career receiving grades & ranks:

2011: 67.9 (27th)
2012: 73.4 (13th)
2013: 69.3 (27th)
2014: 59.5 (31st)
2015: 69.2 (21st)
2016: 75.3 (15th)
2017: 72.0 (8th)
2018: 66.5 (22nd)

His blocking has declined, but as a receiver he hasn't really dropped off.704:59 PM – May 23, 2019Twitter Ads info and privacySee Nick Olson's other Tweets
Arif Hasan✔@ArifHasanNFL · May 22, 2019
I admit I'm surprised by thisPFF MIN Vikings@PFF_VikingsKyle Rudolph overall grades since 2011 #Vikings
Looked just at rec yds per route, as well as an adjusted YPRR metric that corrects for team passing performance. Rudolph has never exceeded the 60th percentile in his career; only exceeded 50th once. The first 4 yrs don't match the PFF grade chart, but the final four do pic.twitter.com/Y7Wjk0eqYF1511:20 PM – May 22, 2019Twitter Ads info and privacy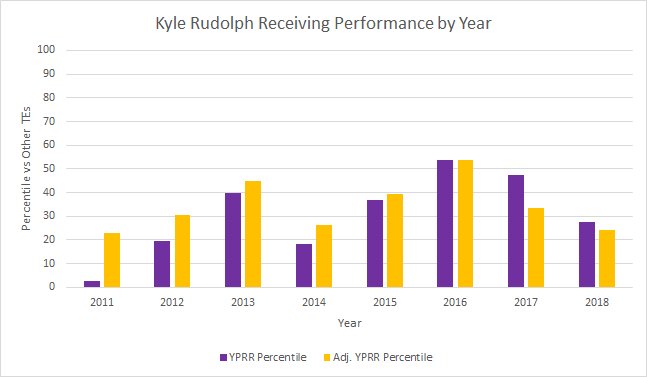 Expectations for Elflein
Diggs' Absence
Recent/Upcoming Projects
Catch up on all the latest from CTP here.